There was a long series of events leading up to my enrollment in the graduate program at the Academy of Art University.  I sometimes stop to wonder where I would be now if I'd missed just one of those steps along the way because my experience there has helped to define who I am as a person.  I didn't know I was a photographer and I certainly didn't know I was an artist.  January 2004 I bought a camera and became a photographer. With the help of the faculty and students at the Academy of Art University, I became an artist.
I left my first career as a cancer research technician after eight years to become a homemaker.  Although I didn't realize it at the time I bought my first camera, I was searching for a creative outlet in my life and I was hooked on photography from the start.  A short year later I came across an advertisement for the Academy of Art University in a magazine and enrolled as a personal enrichment student.   I thoroughly enjoyed my first classes which led me to enroll in the graduate program.  My excitement for art and photography has grown at each step along the way.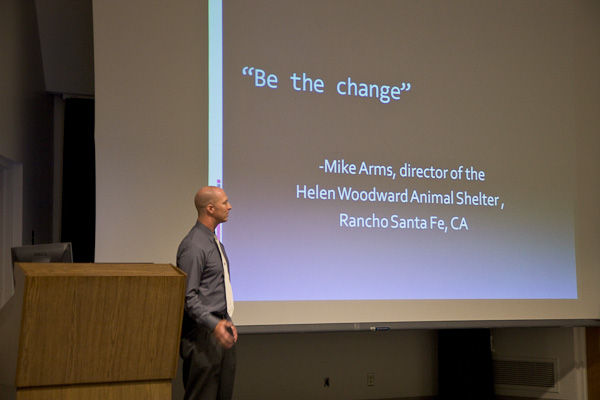 I've been an animal lover for as long as I can remember.  As I move through life I've come to realize that it is not enough for me to enjoy their company, but rather that I feel compelled to share my time and experience being an advocate for the homeless ones.   I see that while people love their cats and dogs, they continue to make decisions that combine to condemn millions of them to death every year and I want to be a voice for change.
Each week I photograph adoptable animals at our local adoption agencies.  My experience has been that quality photography is the first step in marketing these furry works of art to potential adopters.  It is my hope that I can use these local animals as a voice for the millions of homeless animals nation and worldwide.  My first two books Shelter Cats and Shelter Puppies were created as a first step toward reaching that audience.  I also spend my time working with the non-profit organization HeARTs Speak as the Director of Artist Resources.  HeARTs Speak is a global network of artists working to help the adoptable animals in their communities.
Having earned my Master of Fine Arts degree, I spend a portion of my time giving back to the art community through teaching.  I am currently an Adjunct Professor of Fine Arts at the Washington State University Tri-Cities campus.