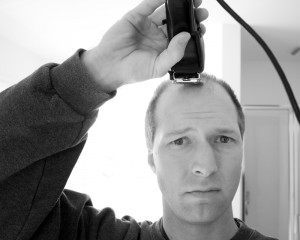 As someone that cuts his own hair, I can really appreciate how these things might happen.  A little slip here.  A bit too far there and before I know it I'm practically bald.  (Well, fair enough – genetics plays a role there too.)   Worse, I've gone more than a couple of days before I realized that I missed a small spot but that's the price I pay for being too impatient to wait for help and too cheap to think that even $14 is too much to pay for a two minute buzz job.
But I don't think that was Toby's problem at all.  Since he lacks opposable thumbs I have no choice but to believe that someone did this to him.  Looking at Toby, I can almost hear Frankie Avalon singing Grooming School Dropout.
Judging by his expression here, I can only imagine that he might be feeling a bit embarrassed about his new furdo.   After all Pomeranians are supposed to have lovely long coats.  Poor Toby.
So then.  As I'm sure you already know, Toby is looking for a new groomer.  More importantly, he is looking for his forever home.   If you are interested in learning more about this sweet boy, please visit the Benton-Franklin Humane Society or their website at http://bfhs.com.